Getting up onto the roof of your St. Louis home and checking for leaks or cracks may seem like a smart idea. It's as simple as setting up a ladder and getting up there, right?
Besides the fact that you can put yourself in danger, unless you have the years of experience in roofing that the St. Louis roofers at Storm Solutions have, you will not be able to recognize the signs of damage or weakness that we can. So put down the ladder, relax, and call Storm Solutions for a FREE roof inspection.
Here are the three steps we will take when inspecting your St Louis area home:
Step 1 – Roof Inspection
During your FREE roof inspection we will inspect your entire property for storm damage, hail damage, and any signs of cracking or leaking. Our inspectors will perform an engineering square test to the roof, determining the extent of the damage to your roofing shingles and whether or not hail or heavy winds have compromised the functional ability of the shingles. Other St. Louis roofers do this inspection from the ground, but at Storm Solutions we believe the closer you are to the problem, the easier you can recognize its source and more you can do about it.
Step 2 – Exterior Storm Damage Inspection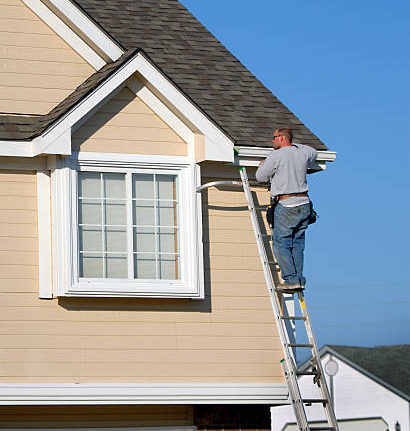 We also inspect the entire exterior of your property, scouring your home for damage or weaknesses. This aspect of the inspection includes a comprehensive look at your siding, soffits and fascia, gutters, downspouts, any painted surfaces, windows and window screens, fencing, patio structures, and air conditioning units.
Step 3 – Photographic Report
Throughout the inspection process, we will take detailed photos of all damage we run into. After years of inspecting St. Louis homes, we have found that presenting photos of the damage to a homeowner's property helps them understand how storm damage may compromise their roof and the exterior of your home. Based on our report we will recommend whether or not the damages assessed warrant filing a claim with your insurance company.  As insurance claim experts, we can help guide you through this process so that your roof can be repaired quickly and as inexpensively as possible.