Picking the Right Roofing Company for your St. Charles Home 63303
Sure, you can tell if you had a bad roofing job in St. Charles six months later when you have your first deluge and there's water everywhere inside. But there are ways to tell much earlier that you may have made a bad choice, even while the job is going on.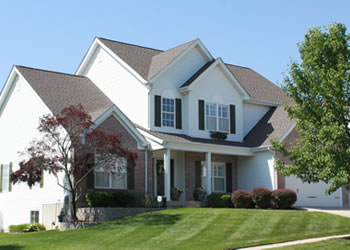 Let's say you were in a rush to get your new roof put on and you didn't necessarily do all the homework you should have done. You didn't check the references. Someone said they saw a sign in a neighbor's yard saying that this company was putting on a new roof and you took that data and ran with it.
You schedule the job and the roofers arrive. When do you start to realize you're in trouble here?
To begin with, do they keep their agreements on the schedule? Do they show up on time?
Do they have the right supplies and equipment or does someone have to run back to the shop for something they forgot?
Do they have the right materials, the ones that were agreed on for this roofing job?
Do their tools and ladders seem to be in good repair?
Are they a local company?
Do they have their office in St. Charles or a nearby location?
Are their trucks in good order? This doesn't mean that they have a great paint job because these are, after all, working trucks. But professionals who take pride in their work need to have their trucks and their tools in good order. If tools and supplies and odds and ends are piled in the truck helter-skelter, this is not the best sign.
Does the foreman come to you and say that the quote was wrong and give you a new, dramatically increased price – and the work has already started?
If you ask a question, do you get a blank look rather than a clear answer?
If you start seeing a lot of negative signs like these, you should probably watch your roofers like a hawk. It might even be time to start calling around for a replacement.
Questions To Ask Roofers Before They Start Roofing
Before they even arrive, there are some questions you can ask that will help you avoid getting a company with signs of unprofessionalism. By asking the right questions, you can get a better idea if the company you are talking to is a quality business or just some untrained, inexperienced guys trying to get some business.
Are the workers covered by Worker's Compensation? Is the company covered by Liability Insurance? Who is the insurance carrier and agent? If they won't tell you, that's a bad sign.
What is their Better Business Bureau rating? Then once they tell you, go to the BBB website and verify it.
The rep from the best roofing company will offer you different options and explain them. You should feel able to understand your choices. That's the sign of a professional – being willing and able to explain the job to the average homeowner who has never been up on a roof.
Does the person giving you the quote actually get up on the roof and see for himself what you need or does he give you a quote from the ground? Does he bring you any instant or digital photos to explain what you need?
If you feel cared for during the estimating process, then the chances are much better that you will feel cared for when the job is going on.
Call us 24 hours a day: 866-799-7663